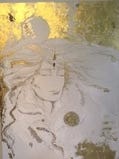 God Lives Within You
Rediscover His Love and Light
Knowing God is Knowing Yourself
The Free Nun



Agenda
6 April Divine Unity Celebration
Every Monday Distant Blessings & Healings

Healing Gatherings: Dates soon
The Corona Virus brought the world upside down. But what does this want to tell us? The Corona Virus or any other disaster is not here to hurt us. We are forced to listen to our heart and how we all live together. We need to go beyond our limited thinking and trusting in a higher force, because that higher force is living in us and is the light. The light is activated by love. We have the capability to create a world in love and peace free from disasters and in tune with nature. The light heals and guides us in what we need (and not what we want). It is our destiny to become that light our-self. Please watch the video and join on April 6.
Join me every day in prayer and healing
Note: sound is better on mobile devices
Energy Healing Grid Cards to raise Your Light Vibration
These cards are channeled light vibrations in layered patters. I let the energy flow until the patterns are done, I was guided by divine to make these cards to help to raise the vibrations of the light in people individual and in the world in a more effective way. For the cards I need to ask a fee so that i can offer my gathering services for free or donated.. Yes the cards look like a child made it. But you know what they say: when a adult made it, it is called Art :)
How to use:: carry with you all day. Recommended 21 days.
Orders can be made by sending an email with what you want, your full name, date of birth and address. You will receive an fee invoice if needed.
Covid19 Energy Card
This energy card helps raise your vibration and transform the corona virus into the light. Reviews are varying: feeling a protected light field around, feeling a bit sick to raise the immunesystem, rejected feeling and mental clearing experience.
You can print this card or order a laminated one for €5